"真珠肌のはじまり"
「肌がとてもきれいですね。いつも真珠を触っているからですか?」
お客様のその一言が、madama・hadaの研究開発のきっかけとなりました。
Uniqueness & Specialty
素肌のちから発想/CONCEPT

赤子の肌は、まさに美の絶頂です。
しかし、人はなぜ年を重ねると肌が衰えていくのでしょうか?
それは、日々受けるダメージを放置しているからです。
紫外線、ストレス、大気汚染、乾燥、化学物質など、様々な要因が肌に悪影響を与えます。

madama・hadaは、そんなダメージを受けた肌をいたわり、その日のうちに回復させることを目指して開発されました。
このスキンケアは、肌の力を維持し、さらに活性化させることをコンセプトにしています。
常に輝く裸の肌で過ごせる生活を目指し、madama・hadaはあなたの肌に寄り添います。

素顔の美しさを手に入れることができるよう、madama・hadaは肌の本来の力を引き出すお手伝いをします。
積極的なケアと共に、日々のダメージから肌を守り、美しさを追求することで、いつでも自信を持って裸の肌で過ごせる日々を実現できるでしょう。
美しい素顔を手に入れ、その輝きを維持するために、madama・hadaがあなたの肌をサポートします。

---

Why does our skin age as we grow older despite a baby's skin being the epitome of beauty? It's because we leave the damage we experience every day untreated.

Various factors such as UV rays, stress, air pollution, dryness, and chemicals have a negative impact on our skin. madama・hada was developed with the aim of nurturing damaged skin and restoring it within a day.

This skincare is based on the concept of maintaining and further activating the power of the skin. madama・hada will be by your side, aiming to help you lead a life with a constantly radiant bare skin.

We help to bring out the natural power of your skin so that you can achieve the beauty of your bare face. With proactive care and protection against daily damage, you can achieve the confidence to live every day with bare skin.

madama・hada supports your skin to obtain and maintain its natural radiance, and to help you achieve a beautiful bare face.
真珠のめぐみ/PEARL ESSENCE

「madama・hada」は、肌の美容や健康に関心がある方に注目されている真珠エキスを最重要成分として作られた、唯一のプロダクトラインです。

真珠エキスには、アミノ酸が豊富に含まれており、肌の保湿や美白、保護、抗炎症作用などの効果が期待されています。また、アミノ酸は肌の主要な成分の一つであり、真珠エキスは肌にとって有益な成分と考えられています。

さらに、真珠エキスに含まれるアミノ酸の種類には、グリシン、アラニン、アスパラギン酸などがあり、肌の保湿力を高めたり、肌の炎症を抑えたりする効果が期待されています。また、真珠エキスにはコンチオニンという成分が含まれており、これには血行を促進する効果があることが知られています。

さらに、真珠エキスには、肌の老化を防ぐ効果があるとされています。これは、真珠エキスに含まれるカルシウムが、肌細胞の新陳代謝を活性化し、細胞の再生を促進するためです。

---

"Madama Hada" is the only product line made with pearl extract as the most important ingredient, which is attracting attention from those interested in skin beauty and health.

Pearl extract is rich in amino acids, and is expected to have various effects such as moisturizing, whitening, protection, and anti-inflammatory action on the skin. Amino acids are also one of the major components of the skin, and pearl extract is considered to be a beneficial ingredient for the skin.

Furthermore, pearl extract contains various types of amino acids such as glycine, alanine, and aspartic acid, which are expected to enhance skin moisturizing and suppress inflammation. Pearl extract also contains a component called conchiolin, which is known to promote blood circulation.

Moreover, pearl extract is believed to have an anti-aging effect on the skin. This is because the calcium in pearl extract activates the metabolism of skin cells and promotes cell regeneration.
真珠由来アミノ酸/FROM PERAL

これらのアミノ酸は、真珠から抽出された自然由来の成分でありながら、アミノ酸マルチコンプレックスとして有望です。
真珠エキスは、肌にやさしく、高い効果が期待できるため、私たちの製品の最重要成分となっています。

These amino acids are natural components extracted from pearls, and are promising as an amino acid multi-complex.
Pearl extract is gentle on the skin and is expected to have high efficacy, making it the most important ingredient in our products.

グリシン(Glycine)
肌の保湿効果を高め、シミやシワを改善するとされています。
Glycine is said to improve the moisturizing effect of the skin and improve blemishes and wrinkles.

アラニン(Alanine)
肌の保湿効果を高め、肌を柔らかくする効果があるとされています。
Alanine is said to increase the moisturizing effect of the skin and soften the skin.

アスパラギン酸(Aspartic acid)
肌のうるおいを保ち、肌の老化を防止する効果があるとされています。
Aspartic acid is said to maintain moisture in the skin and prevent skin aging.

アルギニン(Arginine)
肌を引き締める効果があるとされています。
Arginine is said to have a skin-tightening effect.

システイン(Cysteine)
肌を美白する効果があるとされています。
Cysteine is said to have a skin whitening effect.

グルタミン酸(Glutamic acid)
肌を保湿し、シミやシワを改善する効果があるとされています。
Glutamic acid is said to moisturize the skin and improve blemishes and wrinkles.

グルタミン(Glutamine)
肌のバリア機能を強化し、肌の健康を保つ効果があるとされています。
Glutamine is said to enhance the skin's barrier function and maintain skin health.

タウリン(Taurine)
肌のターンオーバーを促進し、肌を健やかに保つ効果があるとされています。
Taurine is said to promote skin turnover and maintain healthy skin.

イソロイシン(Isoleucine)
肌を保湿し、肌の柔軟性を高める効果があるとされています。
Isoleucine is said to moisturize the skin and improve skin flexibility.

メチオニン(Methionine)
肌を保湿し、肌の弾力性を高める効果があるとされています。
Methionine is said to moisturize the skin and improve skin elasticity.
こだわり/KODAWARI

多くの女性が年齢を重ねるにつれて、基礎化粧品を変える必要性に悩んでいます。
そのためには、細胞レベルでエイジングケアを促す美容成分を補給する基礎化粧品が必要です。

その代表的なアイテムになれるよう研究を重ねて開発したラインナップが「madama・hada」です。
内容成分は、表記だけでは不十分で、真珠エキスや海洋由来成分、天然由来の美容成分の配合量にこだわりました。

肌の細胞が自ら張りや潤いを取り戻し、女性たちが最小限の投資で美しい肌を手に入れられることを実現できたと自信を持ってお届けします。

---

Many women are troubled by the need to change their basic skincare products as they age.
That's why it's essential to use basic skincare products that replenish beauty ingredients that promote anti-aging at the cellular level.

We have conducted extensive research to develop our "madama・hada" lineup, which aims to become the representative product in this field. It's not enough to rely solely on ingredient labels, so we have focused on the right quantity of marine-derived ingredients such as pearl extract and natural beauty ingredients.

We are confident that our product line enables skin cells to regain their firmness and moisture, allowing women to achieve beautiful skin with a minimal investment.
そして海/GIFTS FROM SEA

「madama・hada」の成分には、美しい海から採れる天然由来の成分が使用されています。この天然成分は、美しい海であることを条件として厳選され、肌自らが生まれ変わる力を促すと同時に、細胞レベルでのエイジングケアを促進する働きを持っています。

これらの成分は、肌に潤いを与え、美しい肌をサポートするために特別にバランス配合されています。それに加えて、製造過程においても徹底的な品質管理が行われており、常に最高品質の製品を提供することが目指されています。

「madama・hada」は、ただ美容効果を追求するのではなく、美しい海を守り、地球環境に配慮した製品作りにも力を注いでいます。そのため、私たちは海洋汚染防止や環境保護活動に積極的に取り組んでいます。

私たちは、お客様が「madama・hada」を使うことで、より美しく健康な肌とともに、自然と調和した美しい未来を実現できるよう、常に努力を重ねています。

---

The natural ingredients sourced from the sea are carefully selected based on one important condition: they must come from beautiful and pristine oceans.

These beautiful sea-derived ingredients provide the power to rejuvenate the skin and promote anti-aging benefits at the cellular level, resulting in hydrated and radiant-looking skin.

At madama・hada, we take pride in selecting only the highest quality ingredients that not only nourish your skin but also respect the environment. By using the purest and most sustainable resources from the ocean, we offer a unique and luxurious experience that embodies the beauty and power of nature.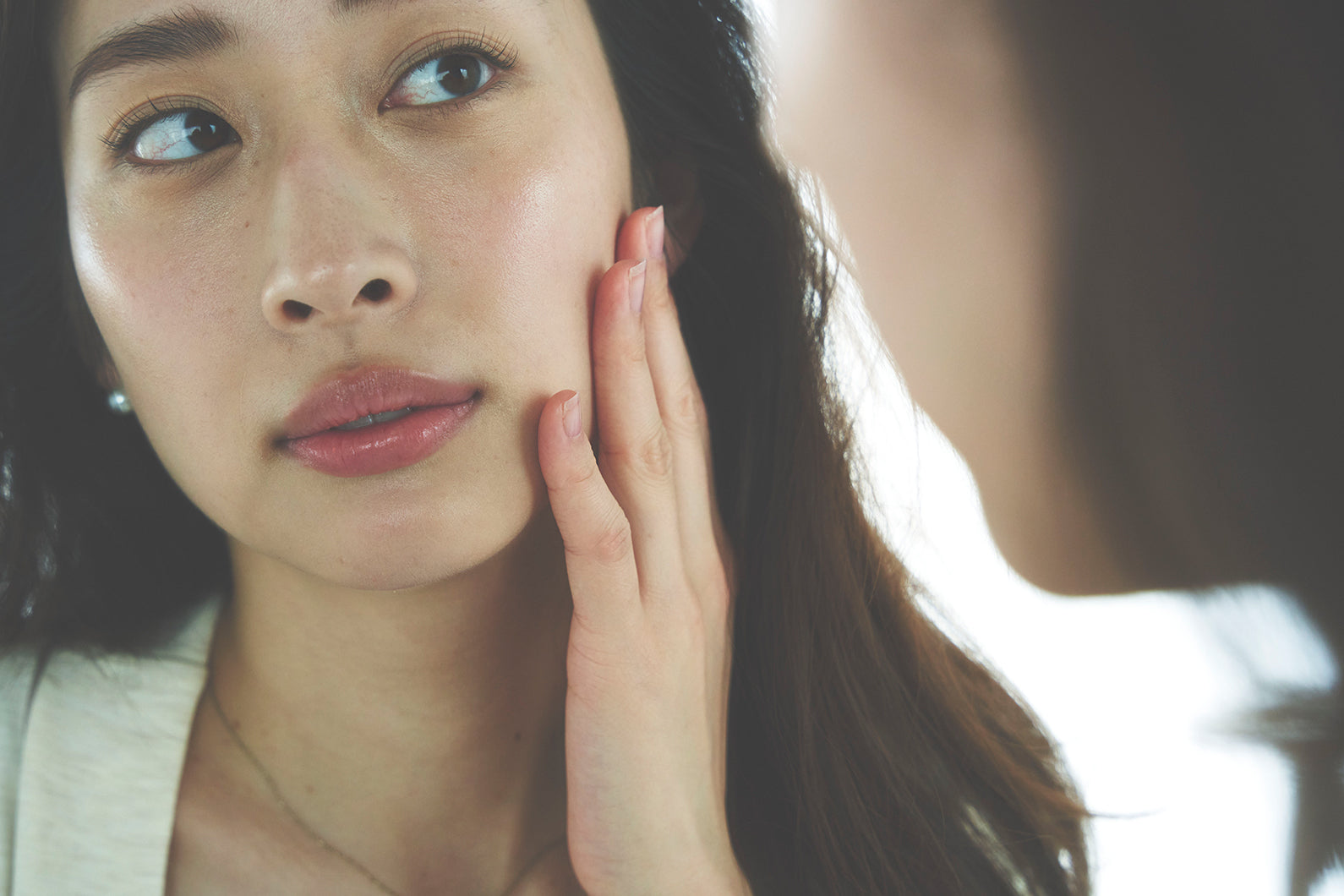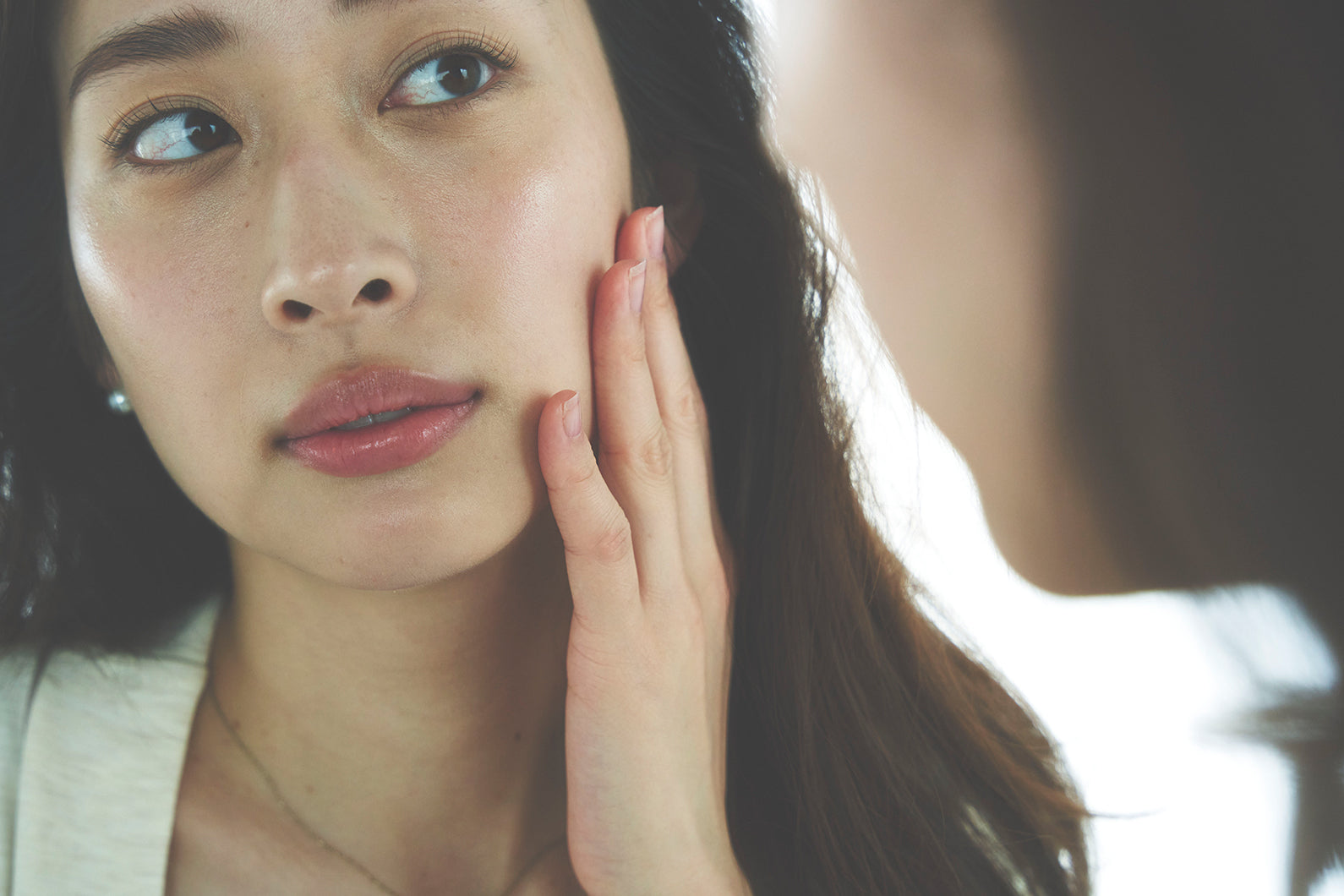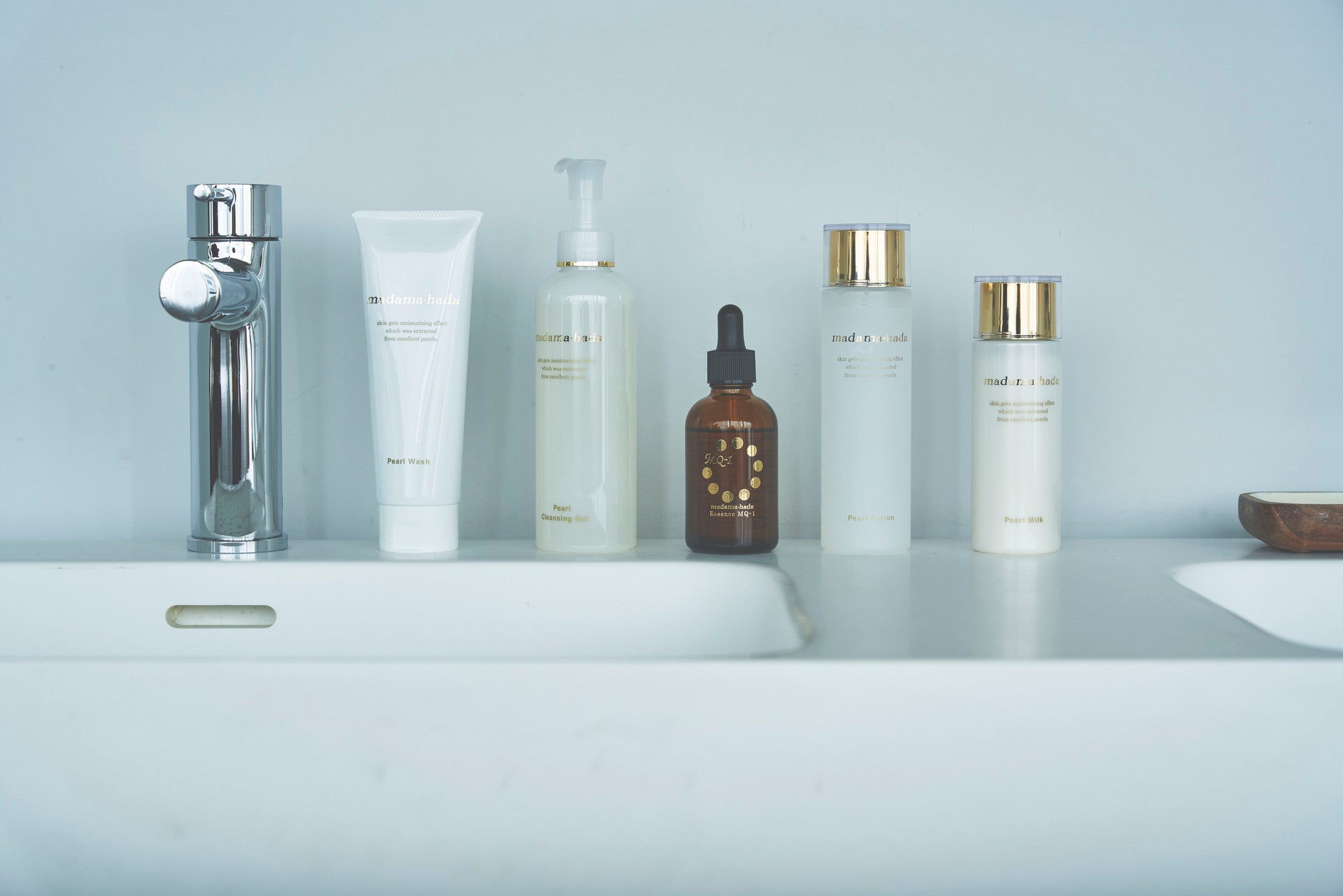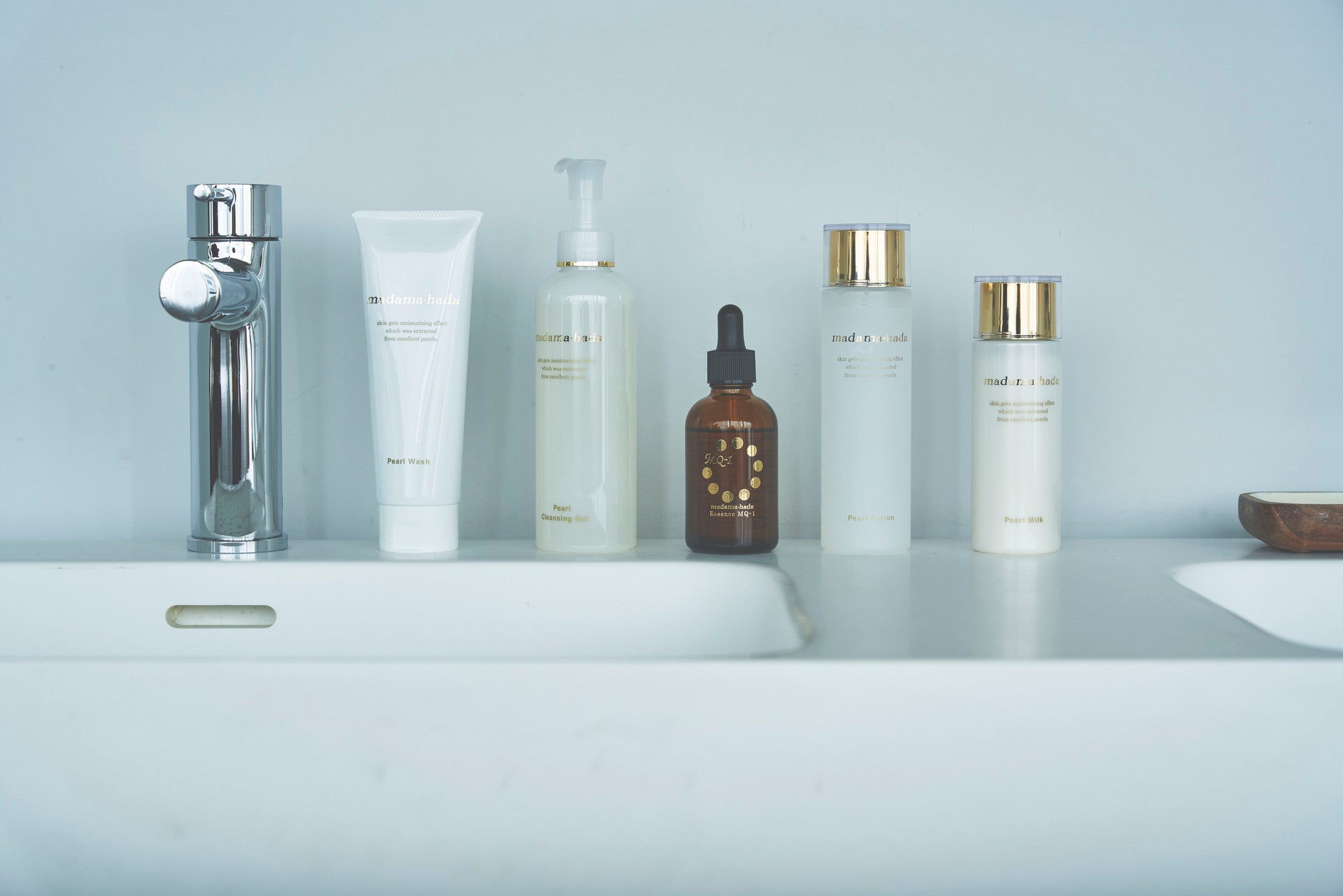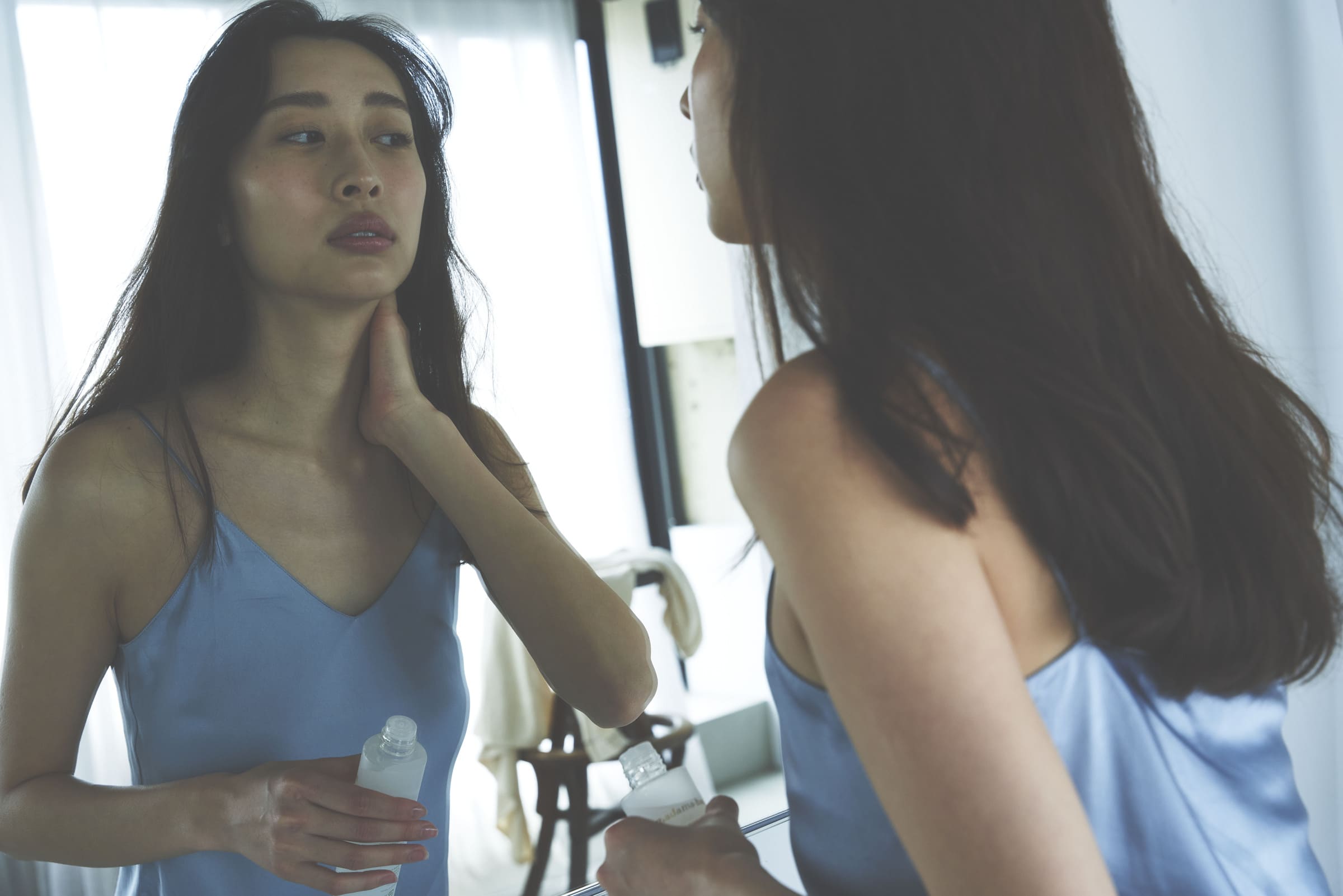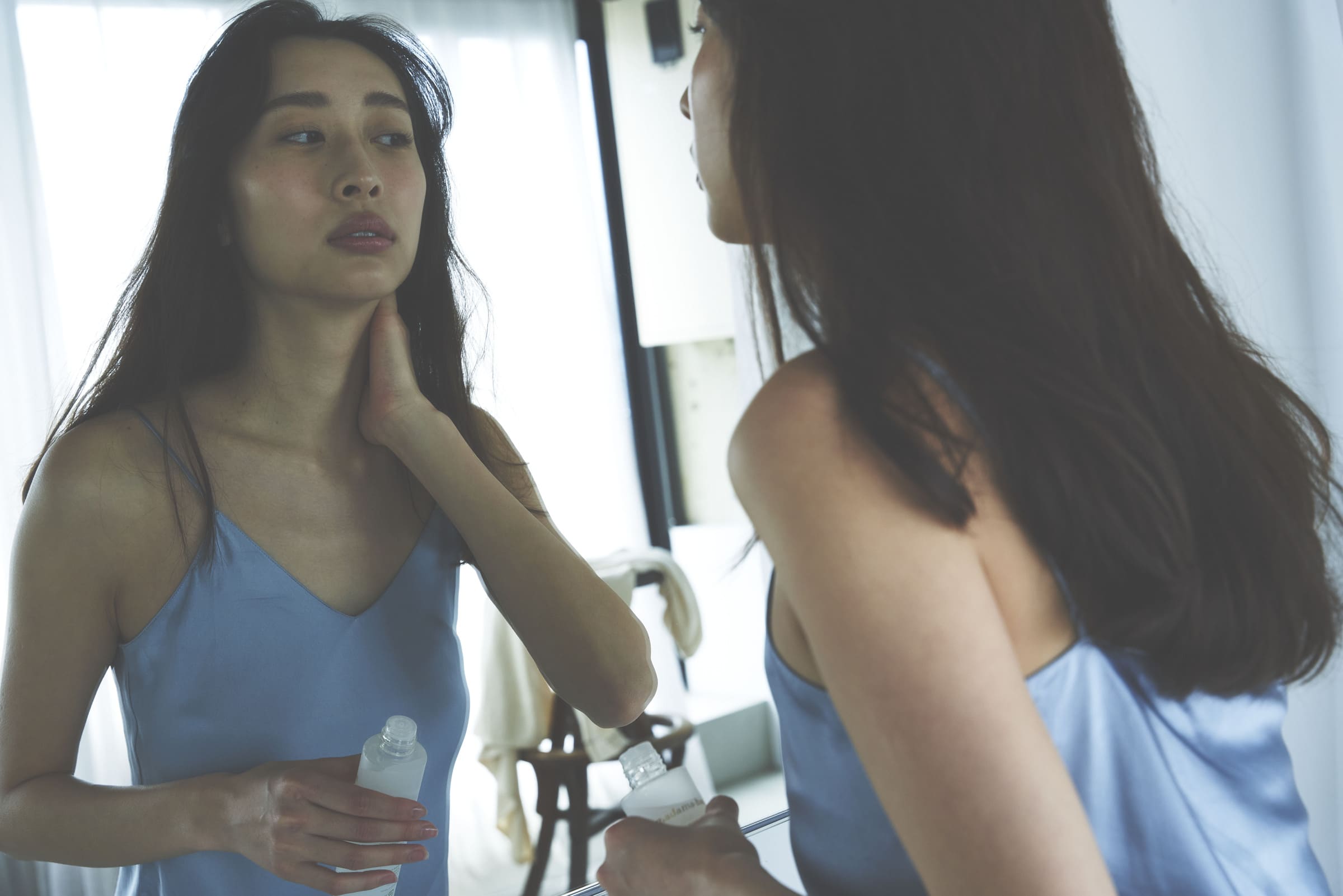 Please promise us
As part of your lifestyle.
The key to effectively using basic skincare products is where you place them - make sure to keep them in a visible spot that you encounter every day.
Please promise us
Don't hesitate to use it generously!
Another important point in utilizing basic skincare products is to use them generously. Be sure not to leave any excess unused.
PLEASE PROMISE US
Check your skin every morning
Once you start using madama・hada, be sure to check your skin every day. You should notice differences in your skin, as well as become aware of the appropriate amount to use.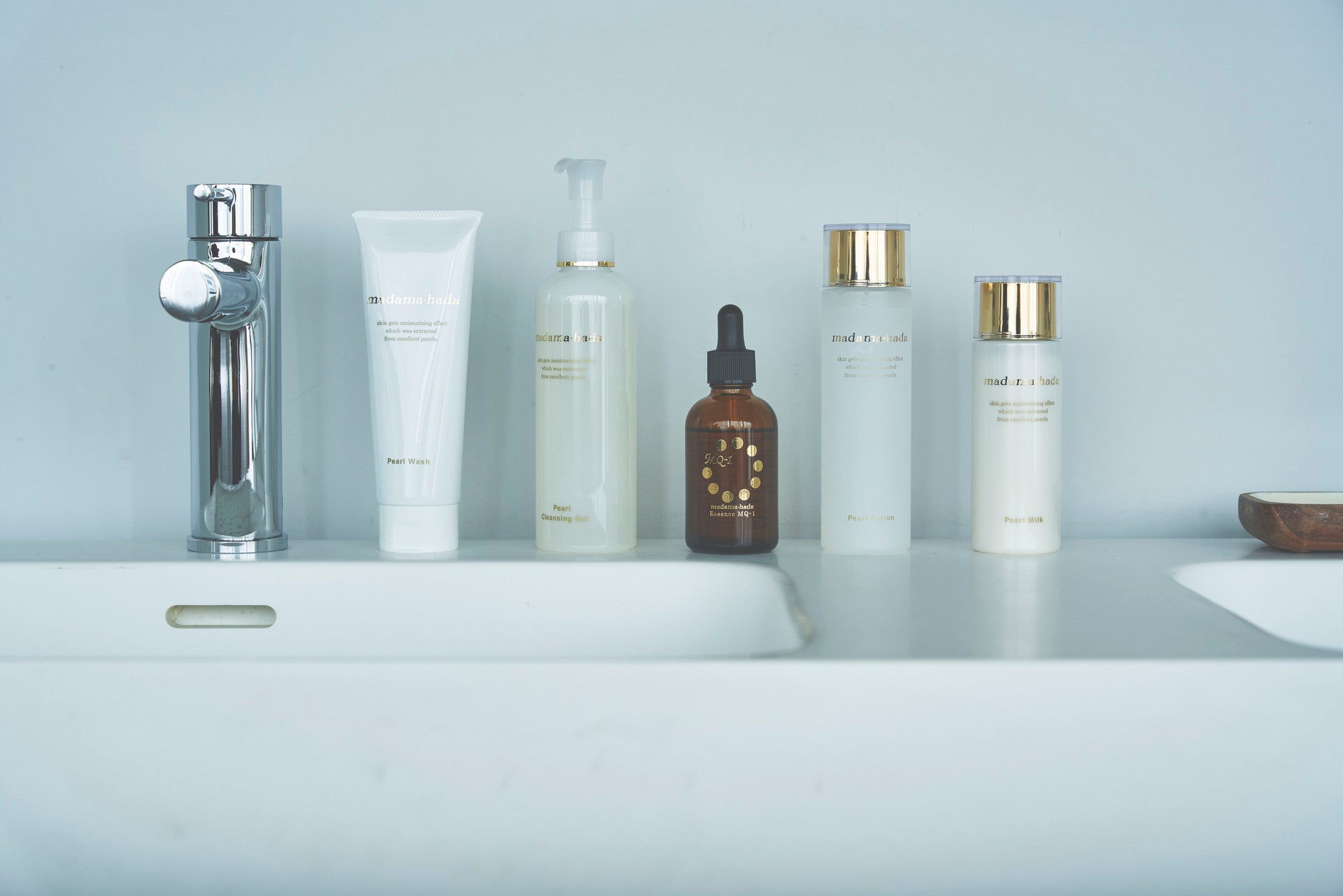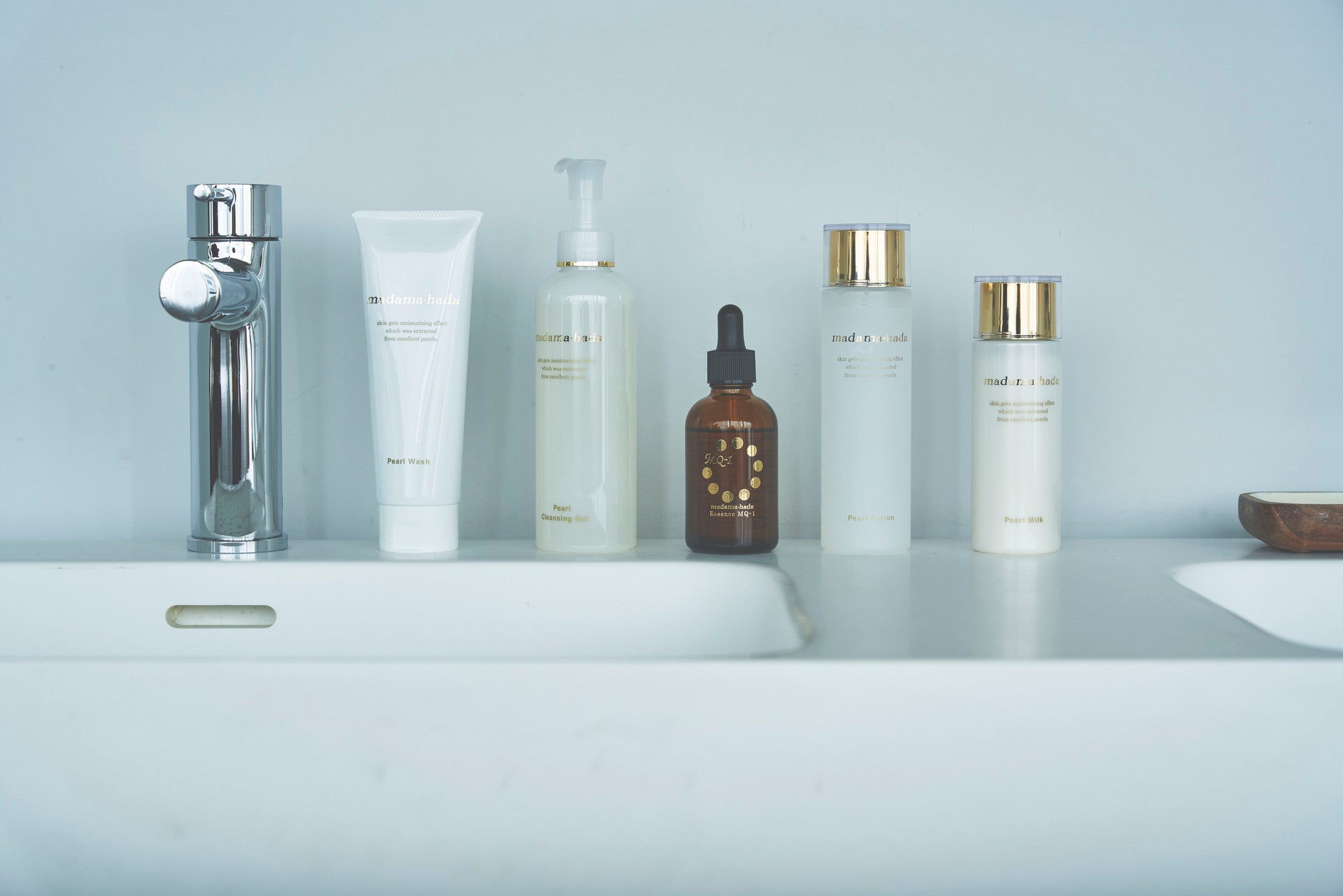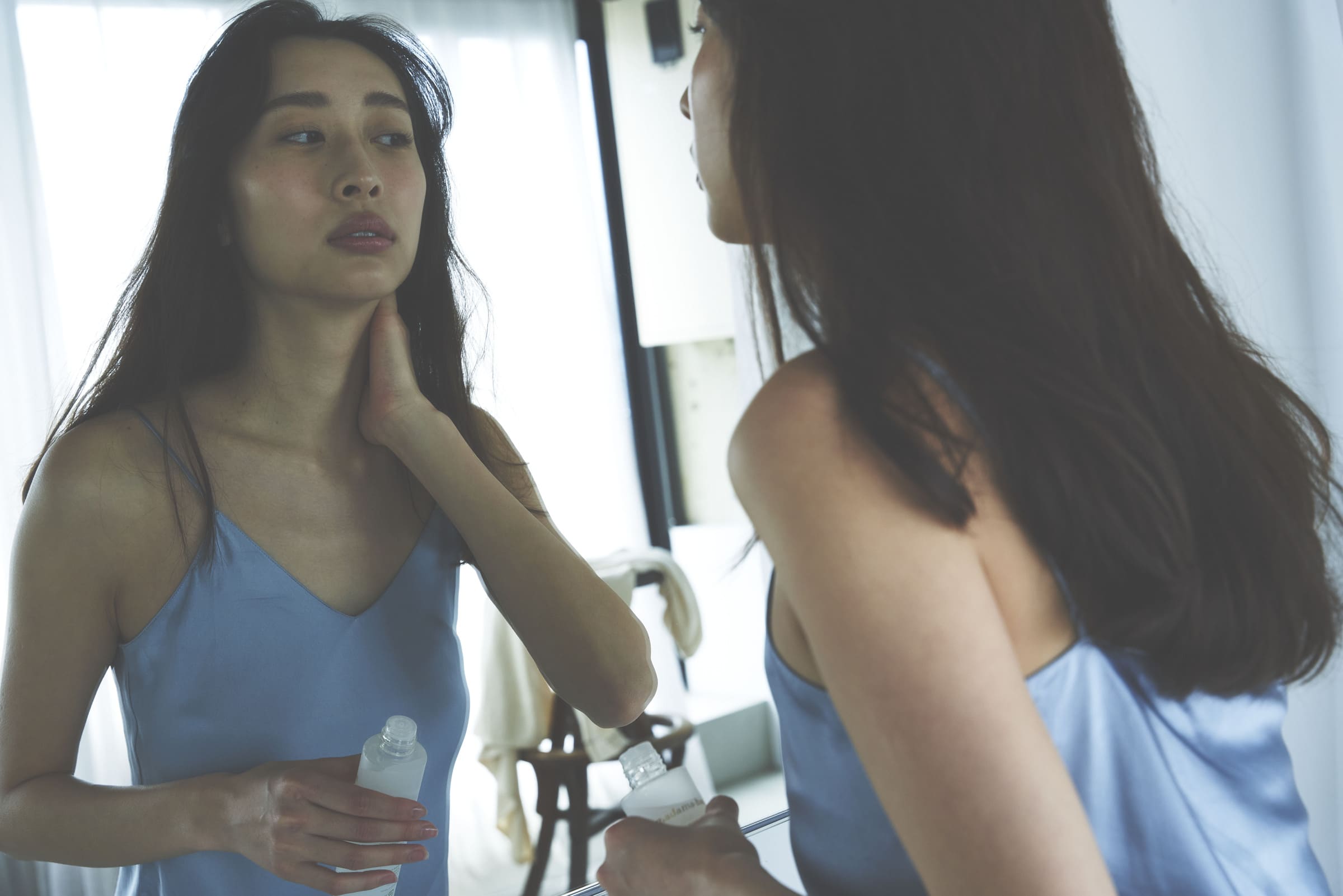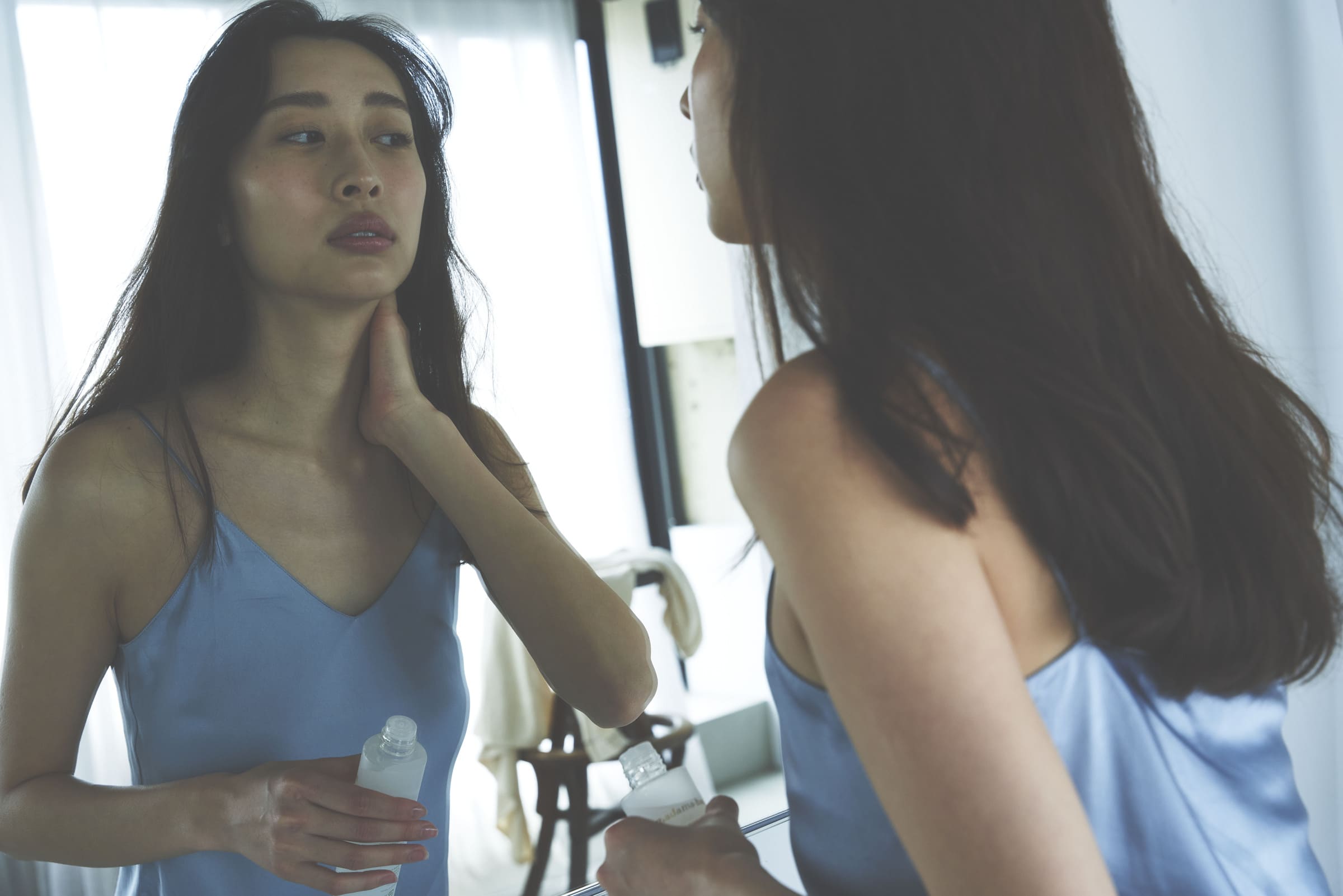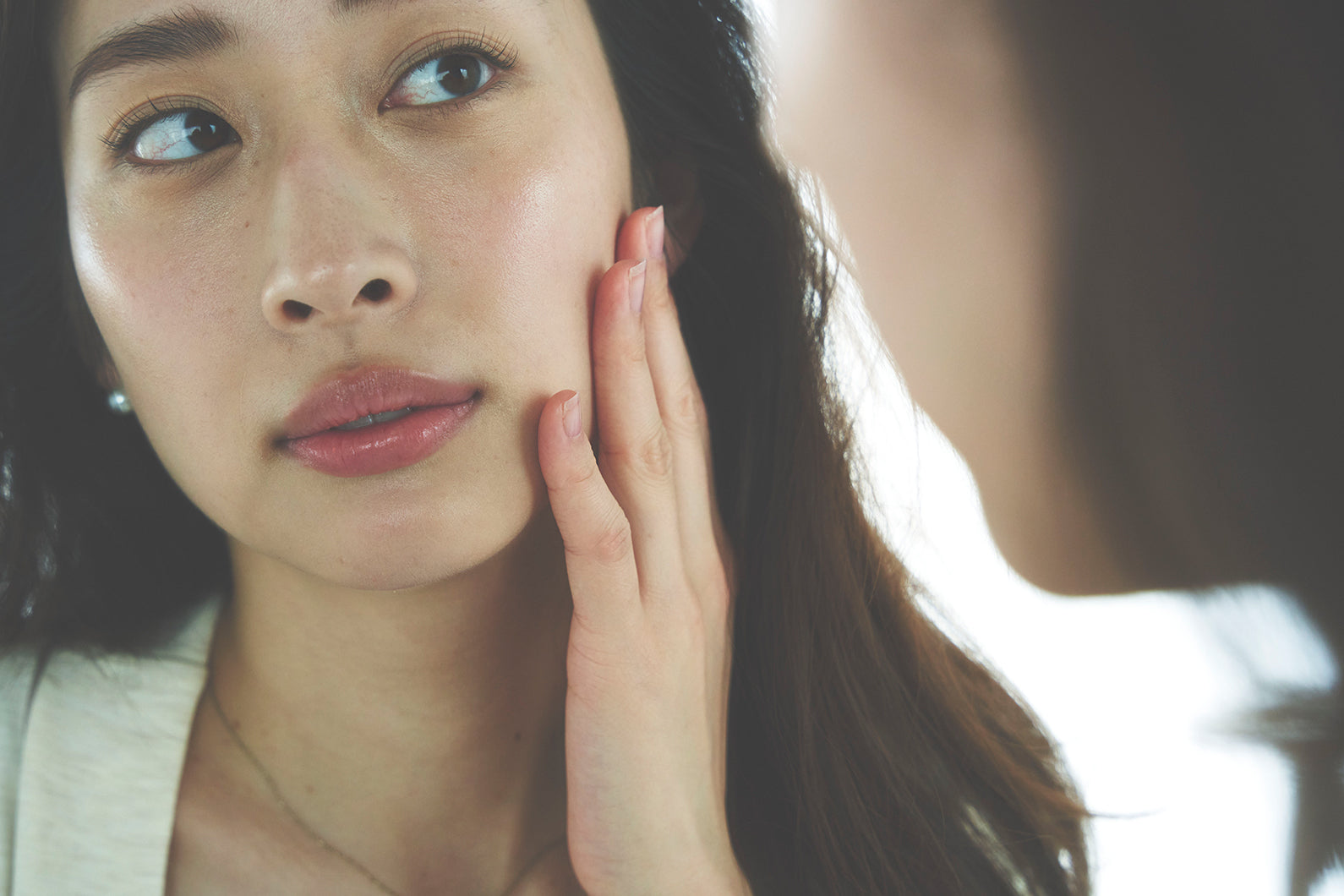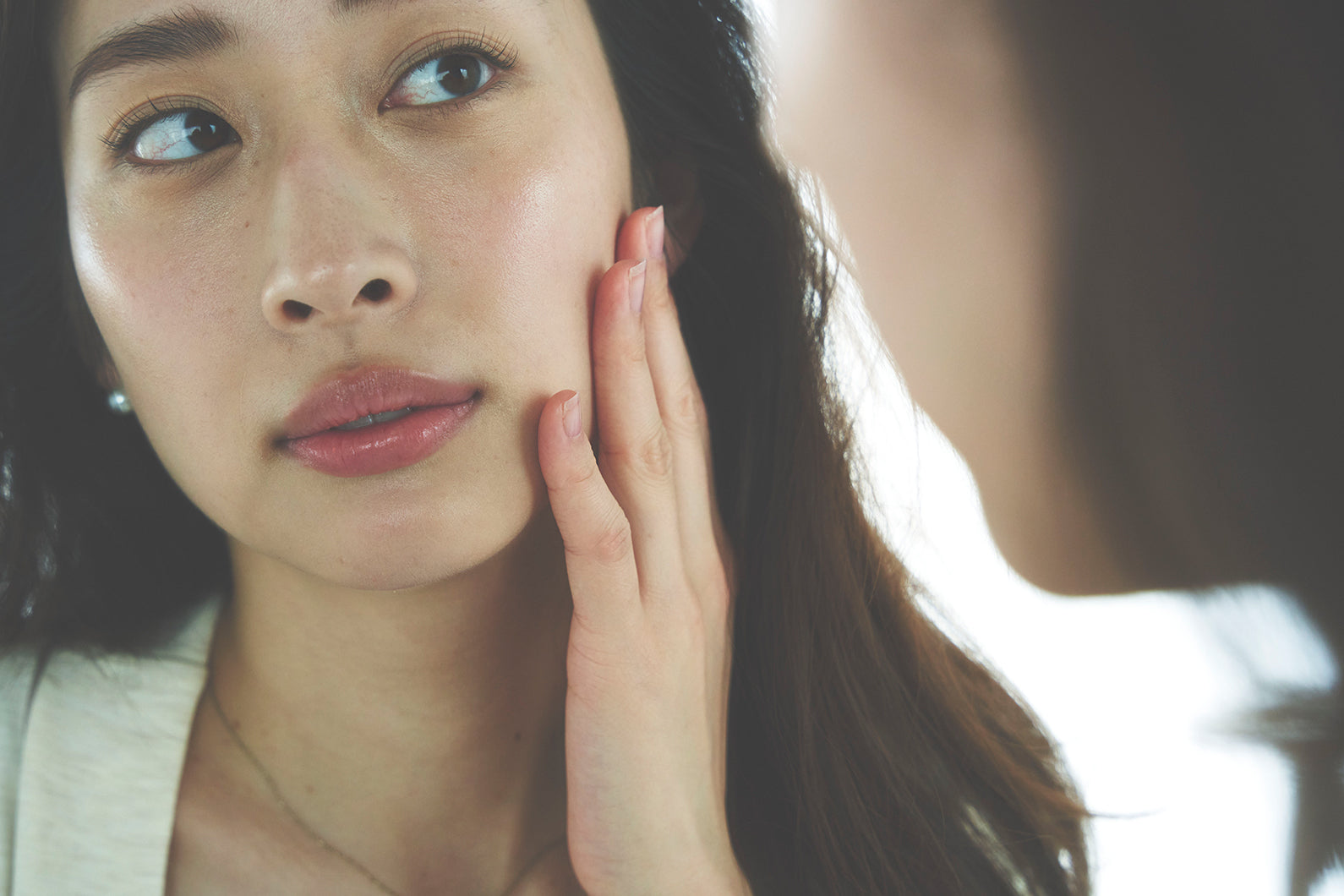 STORY
about 開発エピソード(Making)

妥協しないために何度もスタート地点にもどりました。

「madama・hada」シリーズは何度も何度も試作を重ねながら作られました。
これだと納得がいくものができるまで2年。
より品質の良い化粧品を作るために、時にはスタート地点に戻ることも。

「なんのためにこの化粧品を作るのか」、「どんな人に使ってもらいたいのか」
その思いが、スタート地点に戻るたびに開発メンバーの道しるべになってくれました。

---

We returned to the starting point multiple times in order to not compromise. The "madama・hada" series was created through multiple trial and error processes over the course of two years until we were satisfied with the final product. We sometimes had to return to the starting point in order to create a higher quality cosmetic. The question of "why we were making this cosmetic" and "who we wanted to use it" became our guideposts each time we returned to the starting point.
about 使用感(Texture)

最初の試作品は、ただのさらっとした化粧水でした。
これでは美しくありたい女性のエイジングケアとしては満足を得られないと、保湿成分を大胆に加えバランシングを何度も行い、夢見心地に感じる独特のとろみのある化粧水へ仕上げたのです。

美容液やミルクは、豊かな自然由来の美容成分をたっぷり含みながら、さらさらと肌触りの良いテクスチャーを実現しました。

洗顔フォームは、濃密な泡が肌のくすみをしっかりと洗浄しストレスを生まぬよう試作を重ねました。

すべてのお客様に愛され続ける化粧品となるために、1つとして妥協するわけにはいかないと成分と使用感の両方を突き詰めて完成に至ったのです。

---

The initial prototype was just a simple toner. However, we knew that it wouldn't satisfy women who wanted to care for their aging skin. So, we added a generous amount of moisturizing ingredients and balanced it repeatedly to create a uniquely rich and smooth toner that feels dreamy on the skin. Our serum and milk lotion contain plenty of natural beauty ingredients while also having a smooth texture that feels good on the skin. We also worked hard on the formulation of our cleansing foam, with a thick foam that effectively cleanses the skin without causing any stress. We couldn't compromise on any aspect of our products in order to create cosmetics that would continue to be loved by all customers. We pushed both the ingredients and the user experience to the limit to reach completion.
about パッケージ(Packege)

madama・hadaのパッケージデザインが極めてシンプルであることには理由があります。 「いつもそばにいて、邪魔にならないこと」を第一としているからです。

あなたの洗面台や化粧台の景色に自然と寄り添えるよう、いつまでも飽きのこないシンプルなデザインを目指しました。

アイコンであるエッセンス MQ-1 の容器は試薬瓶と同じ素材・ブラウンカラーを使用しています。すべては日の光に含まれる紫外線から中身を守るため。

すべて自然由来の成分を使用しており、紫外線など外部の刺激は極力避けねばなりません。

こうして末長く愛してもらうため、できることのすべてを行っています。

---

There is a reason why the packaging design of madama・hada is extremely simple. It is because the top priority is to be "always by your side without being a hindrance". We aimed for a simple design that will naturally blend in with the view of your washstand or dressing table and will never get boring. The container of the iconic essence MQ-1 is made of the same material and brown color as a reagent bottle to protect the contents from UV rays in sunlight. All of the ingredients used are derived from nature, and external stimuli such as UV rays must be avoided as much as possible. We do everything we can to make you love our product for a long time.
about 充実性(Fulfillment)

多くの基礎化粧品には、ある時点で「物足りなさ」を感じるものです。効果や感動に到達するためのゴールに達したと感じるのです。

しかし、私たちはお客様からのフィードバックを常に検証し、「物足りなさ」の原因を解消するために努力しています。他社では考えられない贅沢な成分量とバランスを実現し、あなたの肌をサポートし続けます。

「madama・hada」は、美容のプロフェッショナルや医師と共同で、3年かけて先進的なテクノロジーを使用して設計されました。私たちは永遠に効果を感じ、刺激的であることをモットーに、クオリティの向上を続けています。

---

Many basic skincare products may leave you feeling unsatisfied at some point, as if you have reached a plateau in terms of effectiveness and results. However, at Madama・Hada, we constantly validate feedback from our customers and strive to eliminate any dissatisfaction by achieving an unprecedented balance of luxurious ingredients that will continue to support your skin. Collaborating with beauty professionals and plastic surgeons, it took us 3 years to design Madama・Hada using innovative technologies. Our motto is to continuously improve the quality of our products and provide everlasting effectiveness and stimulation.
BASIC SERIES 4点セット
Regular price

Sale price

$128.00
Share